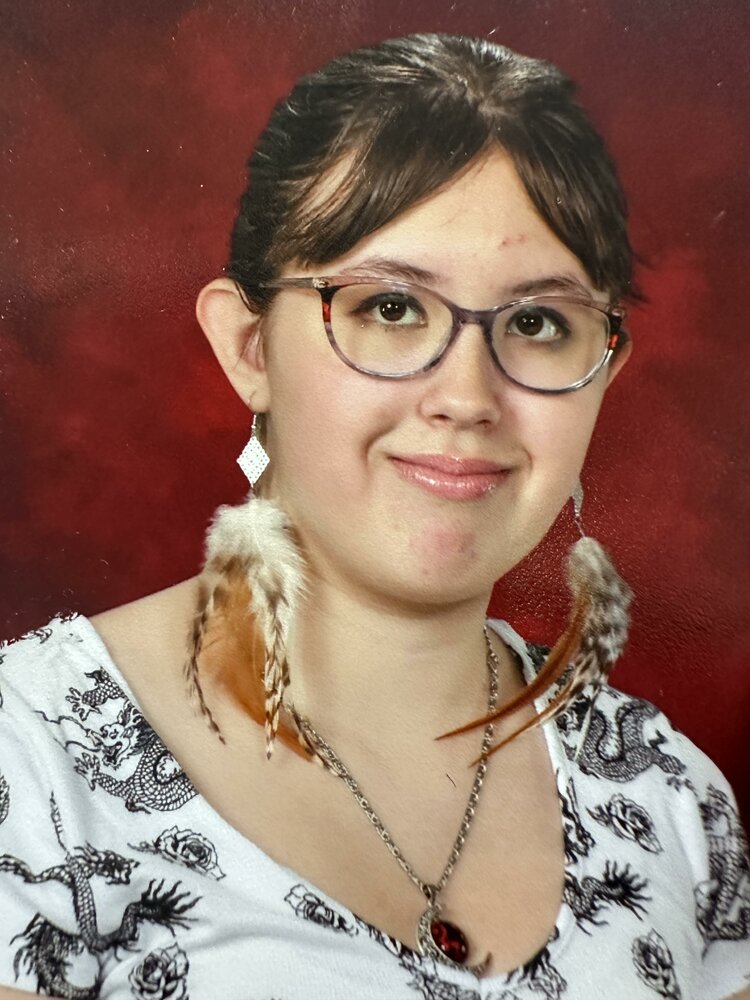 Obituary of Peyton Ann-Marie Hutchison
Peyton Ann-Marie Hutchison "Doots" (14), loving daughter, sister, granddaughter, auntie, cousin, and friend passed away on May 14, 2023. She was born to Michael Hutchison and Renee Brusseau on July 15, 2008 in St. Maries, ID. She was definitely the apple to her parents' eyes.
Growing up in St. Maries, Peyton attended Heyburn, SMMS, and was currently a Freshman at St. Maries High School. She became passionate about music and band and became a talented saxophone player. Her circle of friends was tight, and she enjoyed playing and talking about Call of Duty, often schooling her friends because she possessed so much knowledge about the game. One of Peyton's hobbies was collecting and loving all things Japanese anime; she even ate every meal with chopsticks. Her dream after high school was to move to Japan and be involved with anime.
A tomboy for many years, she blossomed into a beautiful young lady who enjoyed having her hair done by her Uncle Mickey, or having Kaitlyn wax her eyebrows, although Kaitlyn almost got punched the first go round of waxing. Peyton also enjoyed visiting the library and loving her 3 dogs Scout, Leia, and Murphy. She would visit her mom often at the eye clinic just to sneak treats out of the candy bowl. Faith was important to Peyton as she partook in the Presbyterian youth programs until she became to old to do so, and she loved being part of the Christmas programs every year. Peyton didn't care what people thought, and she marched to the beat of her own drum. She was the sweetest, kindest, and most innocent person you would ever meet. If you had the honor of being her friend, you were her friend for life.
Peyton is survived by her parents Michael Hutchison and Renee Brusseau of St. Maries, ID; brother Christopher King of Eugene, OR; sister and brother in-law Stephanie (Mikey) Massing of St. Maries, ID; grandparents Maureen Hutchison, Michael Hutchison, Steve Brusseau, Judy Melloon, Alan Stacey, Pat and Josie Scott; great-grandmother Freda Albert; aunts and uncles Taylor (Aaron) Kolar, Sarah (Joseph) Allen, Teanna Hutchison, Brent (Ashley) Hutchison, Parker (Amanda) Hutchison, Kyle Jestila, and Jeanette Brusseau Humphreys; nephews Eli and Gunner Widmyer and her extra beautiful babies; and numerous cousins. She is preceded in death by grandma Pam Brusseau; great grandmother Vicki Towery; great grandfather Bill Hutchison; and great grandparents Joe and Gloria Stout; great aunts Traci Jewel, Patty Wenman, and Ladonna Hutchison; and great uncle Tony Stout.
A Memorial Service will be on Friday, May 26, 2023, at 11:00 am at the Community Presbyterian Church in St. Maries. A gathering of family and friends to share lunch will follow in the church's fellowship hall.
Memorial Service
11:00 am
Friday, May 26, 2023
Community Presbyterian Church
1100 College Ave
St. Maries, Idaho, United States
Share Your Memory of
Peyton