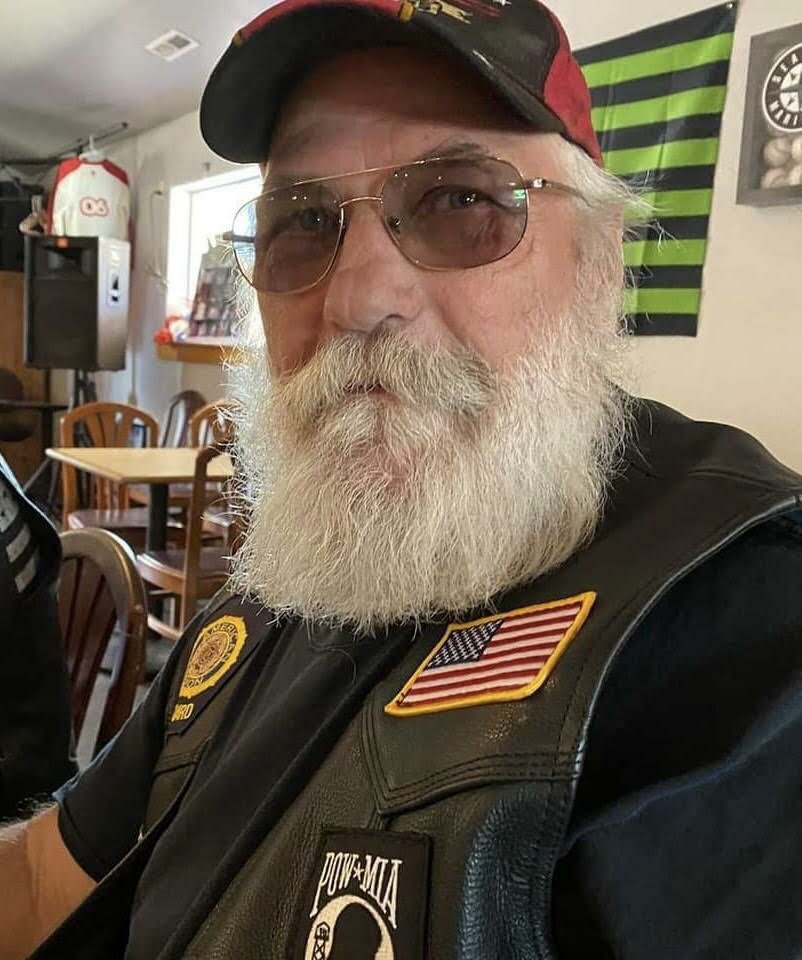 Obituary of Gary Howard Hill
Gary Howard Hill (66) longtime resident of St. Maries, ID passed away on May 11, 2023. He was born to Robert "Bob" Hill Sr. and Ella Jean Shira Hill on June 27, 1956 in Joplin, MO. Bob's work led the family to Montana, Idaho, and California. Gary attended his grade school years in Manteca, CA and then in 1969 to St. Maries, ID where he attended high school. Having a problem with the high school principal, Gary quit high school in 1972. His dad told him you go back to school, or you enlist in the military. Gary chose to enlist in the Marine Corps, he was discharged in 1975.
Gary married Phyllis Maurer on September 7, 1974, in St. Maries, ID. They had 2 children Gary Jr in 1975 and their daughter in 1977. When Gary was honorably discharged, the family moved to Portland, OR where he started a roofing company with long time friend from St. Maries, Hal Young (known as H and Y Roofing). In 1980 Gary moved his family back to St. Maries where he went to work for the railroad rebuilding the track from St. Maries to Bovill. When that job ended, he went to work at Edwards Mill, and when the mill closed, he followed his passion for motorcycles. He attended the Motorcycle Mechanic Institute in Phoenix, AZ graduating at the top of his class.
Gary returned to St. Maries and started his business Putter Parts with longtime friend Lee Olson. A short time later, Lee was killed falling cottonwood trees on the dike here in St. Maries. Gary realized that bikes alone were not going to feed his family, so he built the shop in Milltown and was back to being a mechanic on any and everything. He considered himself a Jack of All Trades and a Master of None.
In 2010 Gary got involved with the American Legion Post 25 in St. Maries, becoming the Commander of the Honor Guard. He took great pride in honoring over 300 Veteran services. He was also a charter member of Northwest Classic Motorcycle Club out of Coeur d' Alene for 25 years.
Gary is survived by his wife at the family home; son Gary Jr and wife Mandie of Fernwood, ID; grandchildren Trent, Wyatt, Kaleb, Kelcie, Hannah, and one great granddaughter; sister Sherylyn and James "Spanky" Holloway of Carywood, ID; brothers Bob Hill Jr. of St. Maries, David and Pam Hill of St. Maries, Randy and Sherry Hill of Fernwood; numerous nieces and nephews. He is preceded in death by both of his parents; father in-law Maurice Maurer; uncles Ed and Dennis Hill; and nephew David Lee Hill II, and his beloved wiener dog Ruby.
Military honors will be presented on Saturday, July 15, 2023, at 10:00 am at Woodlawn Cemetery. The Patriot Riders will be escorting the family from their home in Milltown to Woodlawn Cemetery. Anyone who wants to ride with them are welcome to join. A Memorial Service will follow at 11:00 am at the Elks Lodge in St. Maries. You may visit Gary's online tribute at hodgefuneralhome.com. Memorial Donations can be made to the American Legion Post 25 Veteran Outreach Building Fund, PO Box 460, St. Maries, ID 83861.
Military Honors Presented
10:00 am
Saturday, July 15, 2023
Woodlawn Cemetery
23rd Street and hwy 5
St. Maries, Idaho, United States
208-245-2577
Memorial Service
11:00 am
Saturday, July 15, 2023
Elks Lodge
628 Main Street
St. Maries, Idaho, United States
Share Your Memory of
Gary