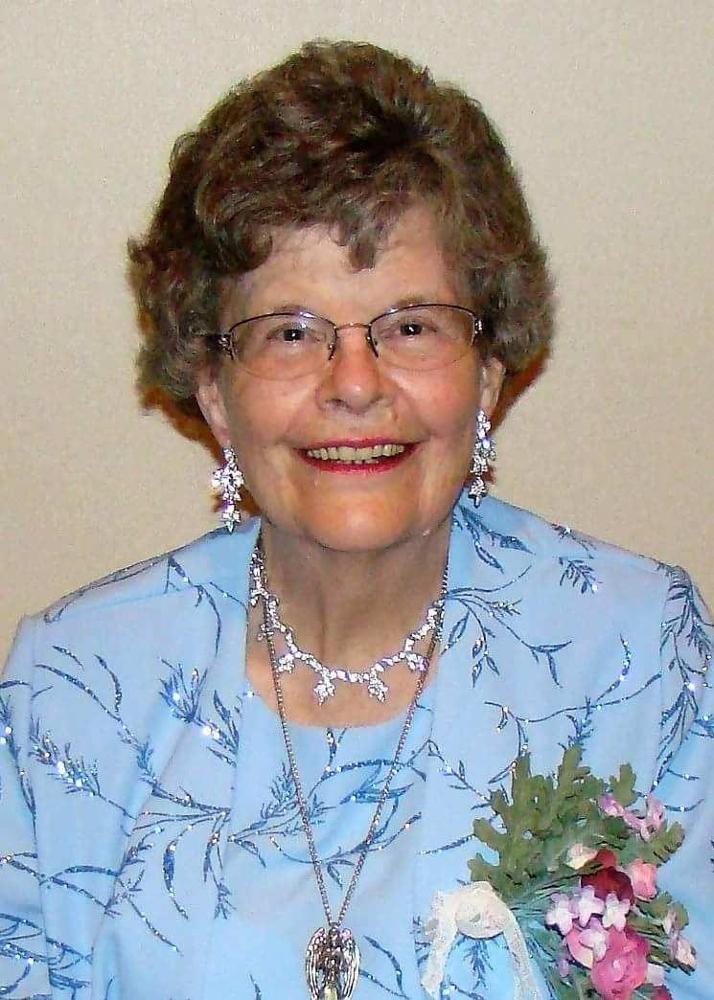 In Memory of
Mary Lee "Mike" Fly Schaffner
1934 - 2017
Obituary of Mary Lee "Mike" Schaffner
Marylee (Mike) Belle Jennings Fly Schaffner (82) passed away on April 18th in Coeur d' Alene, Idaho. She so enjoyed her life, family, and friends and was much loved by all.
Mike was born May 21, 1934 to Virgil and Edna (Kruse) Jennings in Lewistown, Montana. She graduated from Moore High School as Salutatorian on May 22, 1952. She completed 1 ½ years of nursing school in Lewistown, Montana. After Jim built their home on the ranch on upper Hells Gulch Road, she married the love of her life James Walker Fly on December 31, 1953 in Cascade, Montana. For a blind date and love at first sight – two things that are supposed to doom a marriage – they lived with and loved one another for 34 years! Jim preceded her in death March of 1988.
Their family became complete with the birth of their son Shawn and daughter Bonnee. Her joy doubled with the births of her "six-pack" of grand-children and then even more with a pair of great-grandchildren. She so much loved watching each and every one grow and become the wonderful people she adored.
She married Simon (Si) Schaffner on November 21, 1992 in Harrison, ID. She loved her new family and enjoyed the time they had together. Si passed away two years later on November 21, 1994.
Mike enjoyed playing (some say cheating at) cards, her Thursday meetings in St. Maries at TOPS and her bunco parties. She loved cheering on the Zags and was sure they were winning this year because of her cheering. She loved watching how her family and friends were doing on Facebook and was sending her well wishes whenever she could.
She loved to crochet and believe every surface is covered in at least one level of crochet. Mike also loved her angels and magnets – she filled her home with them. Children, ok everyone would have wide open eyes gazing at all her "toys". It was filled with love.
Mike is survived by her daughter Bonnee (Fly) Ballinger and husband Steve of Spokane, WA; her son Shawn Fly and wife Brenda (Melichar) of Phoenix, AZ; her grandchildren Elijah Fly of Phoenix, AZ, Erin Fly of Phoenix, AZ, Evan Fly and fiancé Felicia of Spokane Valley, WA, Cara (Ballinger) Allen and husband Todd of Littleton, CO, Elissa (Fly) Gilbert and husband Luke of Phoenix, AZ, and James Ballinger of Spokane, WA. Also surviving are her two special great-grandchildren piper Allen and Everett Gilbert; her sister in-laws Carol Jennings of Moore, MT and Marguerite Kregger of Touchet, WA, her many family of nieces, nephews, and cousins, and all that knew and loved her as Grandma Mike.
As mom would say – Bye for now – God Bless – Take Care – Keep Smilin' – Loads of Love Always
Visitation will be Saturday April 29, 2017 at 9:00 am – 10:30 am at Hodge Funeral Home in St. Maries. A funeral service will be Saturday April 29, 2017 at 11:00 am at Hodge Funeral Home in St. Maries. Interment will follow at Woodlawn Cemetery. A gathering of family and friends to share a meal will follow at the Elks Lodge in St. Maries, ID.