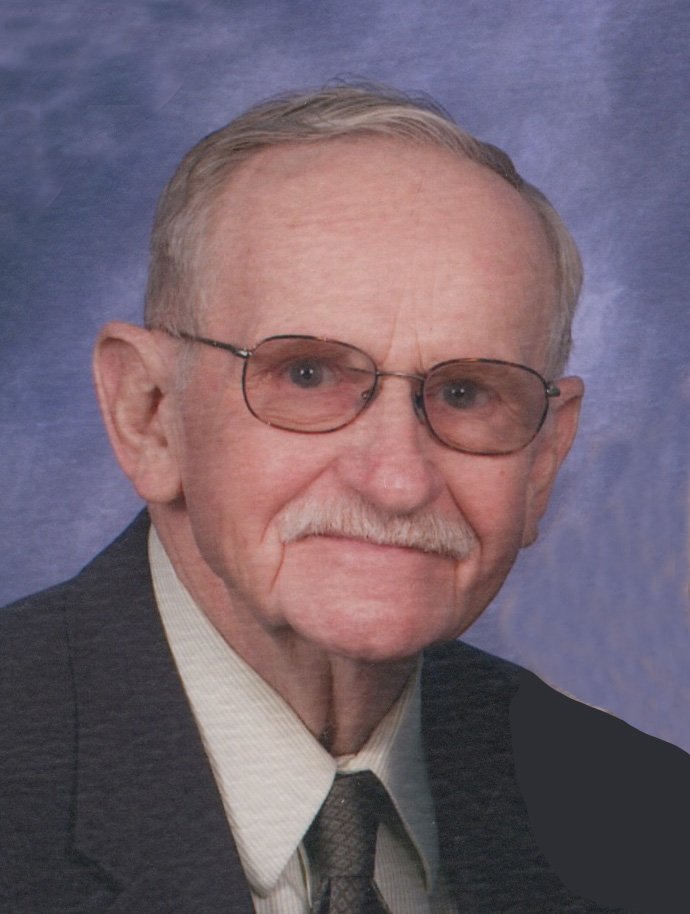 Obituary of Richard McFadden
Richard L. McFadden (90), a longtime resident of St. Maries, ID, loved his family and friends, the legal profession and his community. His life was defined by his dedication to those passions. Dick passed away at his daughter's home in Spokane, WA, on February 21, 2018. Born to George and Elizabeth McFadden on March 9, 1927, in Spokane, WA, Dick grew up in Plummer, ID, where he graduated from Plummer High School in 1944. He spent his summers in the White Pine forests of Northern Idaho fighting the blister rust. At 17, he enlisted in the U.S. Navy and served as a Signalman from 1944-1946. After receiving an honorable discharge from the Navy, Dick attended the University of Idaho Law School where he obtained his Juris Doctor degree in law, following in the footsteps of his father and brother.
After graduating from college, Dick returned to Plummer, ID, where he practiced law with his brother Bob McFadden. On December 27, 1955, Dick married St. Maries resident Katherine McCaffery in Spokane, WA. Dick and Katherine enjoyed a wonderful marriage and raised five children in a very active and happy home. Their home was close to the schools so it served as a base for many St. Maries kids. Dick was active and engaged in his children's lives. He was well known for making the world's best chocolate chip cookies.
Dick enjoyed a long and successful career in the legal profession, helping many people with life's challenges. His quick wit, caring warmth, and sharp intellect made him a particularly effective attorney. In 1952, Dick was elected Prosecuting Attorney for Benewah County, a position he held until 1961. Dick and Jerry Park then opened the McFadden and Park Law Office; this began a deep and lasting connection with the Park family. Dick served as city attorney for St. Maries, Plummer, and Harrison. Dick enjoyed his time as a trial attorney and was a gifted orator and writer.
In 1977, Dick was appointed Benewah County Magistrate Judge and served this position until 1985 when he retired to open up McFadden Law Office with his son Patrick. Dick retired from the practice in 2005 after 52 years of practicing law. He was recognized for being a member of the Idaho State Bar for 50 years, and he also won the State Board Professionalism award in 1996. Dick treasured his legal colleagues and enjoyed a strong network of friendships in St. Maries and throughout the state.
Dick was a popular member of his community, known for his humility, generosity, and genuine interest in others. Dick was an active member of the St. Mary Immaculate Catholic Church, St. Maries Elks Lodge (Past Exalted Ruler), Rotary Club, and the Plummer American Legion Post 69. He was a lifelong Democrat who enjoyed his association with his many Democrat and Republican friends. Dick loved the game of golf, and if you didn't see him out on the golf course, he was probably enjoying himself on Chatcolet Lake at his family's cabin or tooling around town on his bicycle. His other passions included fishing and duck hunting, Gonzaga basketball, and University of Idaho football. Respected for his legal expertise, known for his wit and loved for his kindness, Dick was truly a great man and will be missed by his family and many friends.
Dick is survived by his son, Patrick (Cathleen) of St. Maries, ID; his daughters Mary Kay (Mike Perry) of Moscow, ID; Betsy (John Timmermann) of Boise, ID; Barb and Sue (Pat Dalton) of Spokane, WA; Also surviving are grandchildren Kylie and Andy Pybus, Hilary Hibbeln and great grand-daughter Maya Hibbeln as well as numerous nieces and nephews. He is preceded in death by his parents, his wife Katherine, brother Bob McFadden, and sister Margaret Linehan.
Rosary will be recited on Thursday, March 8, 2018 at 5:30 pm and Memorial Mass will be celebrated Friday, March 9, 2018 at 11:00 am, both at St. Mary Immaculate Catholic Church in St. Maries, ID. A gathering of family and friends will follow services at the St. Maries Elks Lodge. Dick will be laid to rest in Evergreen Cemetery, Plummer, ID. In honor and memory of Richard L. McFadden, the Family has established a scholarship at the University of Idaho College of Law.
Richard L. McFadden Scholarship
c/o University of Idaho Foundation
875 Perimeter Drive – MS 3143
Moscow, ID 83843-3143
Dick's family would like to thank the entire community for supporting our parents in their final years, and especially his amazing care team: Kelly Jensen, Amber Richter, ShaRon Eastep and his grandson, Andy. Dad loved you and so do we!