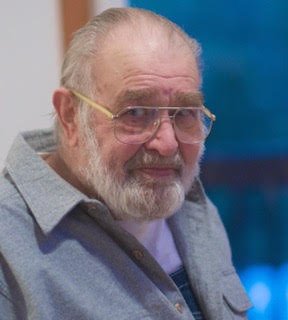 In Memory of
Charles L. Ebert
1929 - 2018
Obituary of Charles Ebert
Charles L. Ebert (89) longtime St. Maries, ID resident passed away on April 24, 2018. He was born in Fernwood, ID to Howard and Lena Ebert in 1929.
Growing up through the depression, he learned the value of a dollar, and was a hard worker from a very young age. He milked cows and delivered milk on his bicycle. He also raised and sold rabbits to local restaurants. He was frugal to a fault, rarely spending a dime that wasn't necessary, and also became very good at playing poker.
Charles drove the high school bus through his own high school years from Fernwood to St. Maries and back. Enlisting in the Navy as soon as he could, he spent his years in service as a diesel mechanic. Driven by a deep love of music, Charles played harmonica over the loud speaker on the Navy Ship "The USS Chickasaw" as they all loved hearing him play. He was great at ballroom dancing and loved when local country bands would play. He was probably Lawrence Welk's biggest fan to his last days.
More commonly known as Chuck, when he returned home from the Navy he started dating and soon married Anita Powell, who was one of his passengers transported to school via the Fernwood High School bus; however he picked her up just a couple miles south of St. Maries. They soon started their family and raised 4 children. The marriage lasted almost 25 years but ended in divorce. Charles never remarried.
Charles was a logger by trade with a self-loader. He worked with his brother Howard and brother in-law Grover Blevins. He also worked with Warney Bell and the Kennon brothers. His last years of employment was 10 years with the Milwaukee Railroad as a car inspector, sending the last train out before Milwaukee Railroad shut down.
Charles is survived by his sons Dan (Aurora) Ebert of St. Maries, Id and Joe (Vanessa) Ebert of Coeur d' Alene, ID; daughters Connie Kirkella of Fernwood, ID and Dori Myers of St. Maries, ID; sister Elaine (Janie) Blevins of St. Maries, ID; grandchildren Brian Peters (Amanda Scott), Matt (Rebekah) Myers, Lena (Greg) Sindt, and Adrian (Lou) Tipaine; and numerous great-grandchildren, nieces, and nephews. He is preceded in death by his parents; sister Arlene Johnson; brothers Howard Ebert and Ronald Ebert; and grandson Kenny Peters.
At his request there will be no services.