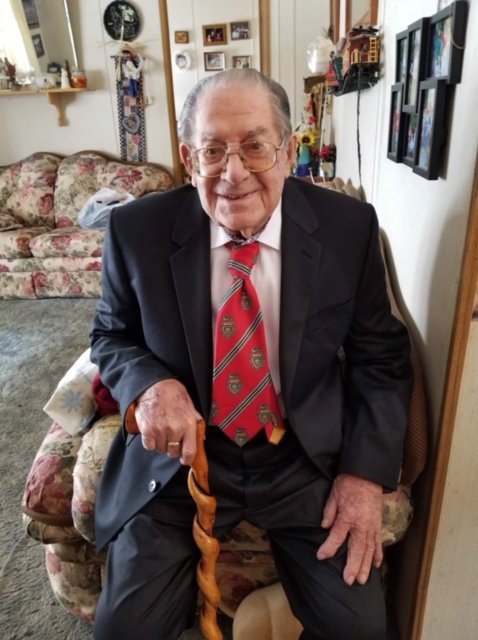 Obituary of John S. Schuerman
John Sylvester Schuerman (92) former resident of Harrison Flats and current resident of Lewiston, ID passed away on August 26, 2019 in Lewiston. He was born to Theodore and Mary Schuerman in Colville, WA on July 16, 1927. John attended school in Colville graduating with the class of 1946.
The day after graduation, John enlisted into the US Army-WWII Era. He was stationed in Japan, and served as a baker on a ship. While stationed in Japan, he wrote letters back and forth to Bernice Scott, a friend he had met prior to enlisting. John served at the end of the war, and was honorably discharged, receiving the Victory Medal and Army of Occupation Medal Japan. Following discharge, he traveled to Alaska and worked odd jobs prior to returning home to attend Gonzaga University. After 1 year of college, he decided to get married and enter the workforce.
John married Bernice Scott on November 25, 1949 at the Hitching Post in Coeur d' Alene, ID. The couple started their life in Colville. John learned the carpentry trade from his dad Theo and his brother Frances. He and Bernice bought a farm in Addy with 1 cow and 100 chickens. Bernice worked caring for her children and gathering eggs to sell. John continued to establish himself as a Carpenter. They later moved to Spokane for work and to be closer to the hospitals. It wasn't long before they realized the city wasn't for them, and they wanted to raise their family on a farm in the country. In 1958 the family moved to Harrison Flats and purchased the Hally, Shandly, and Nap Farms. They later purchased the Freeman Farm. The combined 720 acres included some shoreline on Black Lake which provided some great family recreation of hiking, hunting, fishing, and boating. There John and Bernice raised their 7 children, never missing a basketball game, drama event, or any other activity that the children participated in. John was a 4-H leader for 20+ years. He enjoyed taking the kids sledding, ice skating, hunting, to the lake to fish or swim, rides on horses or on the 3 or 4 wheelers, or anything outside. He wanted them to enjoy the outdoors, the beauty of nature and wildlife. John worked as a local farmer, rancher, and builder. He raised sheep, cattle, and hogs over the years, but turned to tree farming in later years. He did carpentry work to support his family. His carpentry work included bridges, homes, banks, churches, and schools.
John retired in 1992, and he and Bernice began heading south for the winters. They loved going to Arizona/Nevada, and would take their fifth wheel to Las Vegas, Lake Havasu, Bull Head City, and Yuma. They met a lot of friends, and enjoyed barbecues, playing cards and holy board, soaks in the hot tub, and games at the casinos. They had a lot of fun traveling for 20 years.
John enjoyed woodworking. He made toys for his kids and grandkids, porch swings, pop guns, rocking horses, and canes. The outdoors was his passion as he enjoyed hunting, 4-wheeling, snowmobiling, ice skating, and riding horses in his earlier years. He believed that a person should be a steward of ground, and he planted oats, wheat, and trees to make valuable use of the land. Anyone who knew him, heard his story of his Mexican Quarter. He liked to joke and make you laugh. He was a man deeply loved by his family. He always had a smile and a twinkle in his eye. He loved to visit. He believed in the good of people, hard work, family, and God. He was a member of the Harrison VFW, Medicine Mountain Grange, and the Harrison Catholic Church.
John is survived by his wife Bernice Schuerman of Lewiston, ID; children John (Madeline) Schuerman of Jackson, MS, Bonita Holbeck of Spokane, WA, Cliff Schuerman of Harrison, ID, Mike Schuerman (Andy Conner) of Lewiston, ID, Mary (Kerry) Beare of Black Lake, ID, Christie (Tony) Pfeiffer of Harrison, ID; son in-law Bob Goodson of Harrison, ID; 23 grandchildren; numerous great-grandchildren; numerous nieces and nephews. He is preceded in death by his parents Theodore and Mary; siblings Frances Schuerman, Ted Schuerman, Theresa Love, Joe Schuerman, Paul Schuerman, Mark Schuerman, Mary Finke, Cecelia Larson, and Ruth Beckner; daughter Susan Goodson; and son in-law Paul Holbeck.
A Catholic Mass will be Wednesday, September 4, 2019 at 11:00 am at St. Mary Immaculate Catholic Church in St. Maries, ID. A gathering of family and friends will follow at the Benedictine Hall.
To plant a tree in memory of John Schuerman, please visit Tribute Store
Catholic Mass
11:00 am
Wednesday, September 4, 2019
St. Mary Immaculate Catholic Church
917 Jefferson
St. Maries, Idaho, United States
Gathering of Family and Friends
12:00 pm
Wednesday, September 4, 2019
Benedictine Hall
Jefferson
St. Maries, Idaho, United States
Share Your Memory of
John